At least it is all calorie free...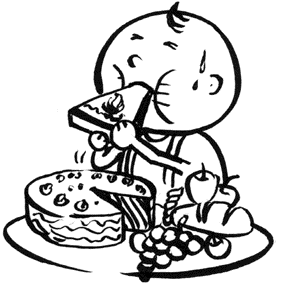 This picture sums it up. I'm officially announcing that I have "bitten off more than I can chew" and "my plate is full." I don't know what to do about it except keep on chewing until my plate is empty. The things I enjoy most are being put on the back burner due to my over-committing issue. That means my blog... I am so sad.
I am gearing up for the
Boutique
on May 3rd, so mark your calendars. I have so much beautiful new linen and cotton and hope to share some photos along the way. In the meantime, check the Boutique blog and watch for new vendor spotlights and fun stuff each week. We hope to do a give away, too. If you want to be on the invitation mailing list, please email me at
lori
(dot)
vanwagoner
(at)
gmail
(dot) com in the next two weeks. Also, if you'd like to put a link for the boutique on your blog, we'd love the free advertisement. :)
I cannot wait for
General Conference
this week. It will be so wonderful to get away from
Primary
for a week and listen to our new prophet's voice. It is such a great time of year. Best of all... it usually gets warm after Spring Conference. Please sunshine... I NEED YOU RIGHT NOW!
If you want to see the partially completed craft room my sister, Jenny, and I worked on, head over to
her blog
. I look absolutely dashing in the photos. :P
I'm reading the
Count of Monte

Cristo
for our book club. I LOVE IT! What an awesome story of revenge.... (MEOW-
ZER
! Want some nip for that
cattitude
?) It is great, though. At least my reading list is still growing. I've just completed #18 on my goal to read 50 books this year. YAHOO! This is another plug for
GoodReads

.com
. I LOVE IT, too!!!
I must go mop my floor.
I'm this excited about it
! I love you all as much as books and crafting and sunshine. I hope you will hear from me soon.